The Olympus Zuiko Digital ED 50-200mm f/2.8-3.5 SWD is a fast and robust telephoto zoom lens for the Four Thirds system. Offering an angle-of-view range similar to that of a 100-400mm lens on a 35mm body, the Zuiko Digital ED 50-200mm f/2.8-3.5 SWD boasts a dust- and drip-proof construction, a Supersonic Wave Drive auto-focus motor and an iris diaphragm with 9 rounded blades. The optical formula comprises 16 lens elements arranged in 15 groups, including no less than 3 ED glass elements.
Ease of Use
The lens attached to an Olympus E-5 camera body
Weighing in at nearly 1kg, the Olympus Zuiko Digital ED 50-200mm f/2.8-3.5 SWD is certainly not a lightweight lens, but for the focal range and fast maximum aperture on offer it is actually a pretty compact unit. Build quality is excellent, as you would expect from a lens in this price range.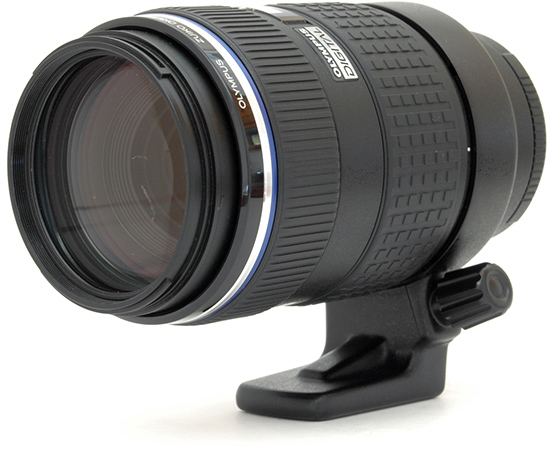 Front of the lens, isometric view
The lens comes with a tripod collar that has a rather small foot - this is no problem as long as the lens is mounted on a tripod, but once you put it down on a flat surface you will run into problems with balance. Here the lens is shown on its own but with an E-5, its centre of gravity shifts toward the rear, meaning the kit may fall over backwards if you aren't careful enough.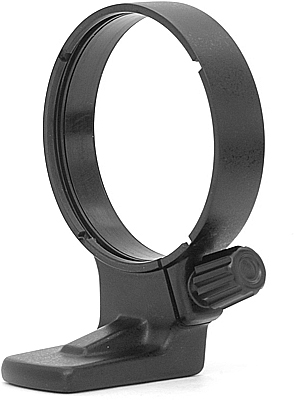 Tripod collar
Thankfully, the tripod collar is detachable, which is a good thing as it might get in the way when shooting hand-held. When attached, it allows camera rotation, eliminating the need to tilt the tripod head for switching from landscape to portrait orientation or vice versa. There are markings on the lens barrel to show 90° rotation points.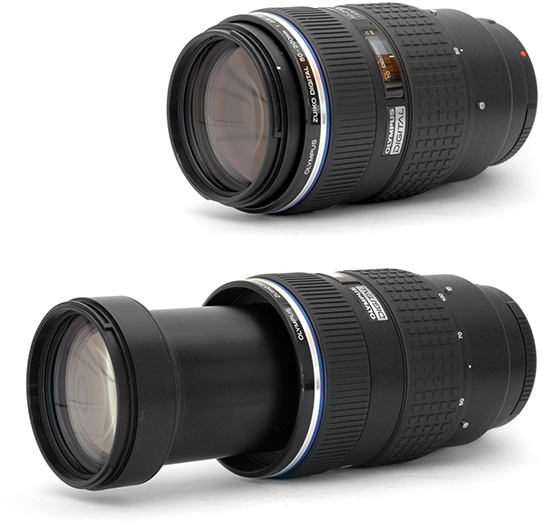 Zoomed out and zoomed in

Zooming is not internal - as you can see, the front extends considerably upon zooming to 200mm. The zoom ring has a generous width and a quality feel to it. During zoom operation, the lens sucks in a lot of air, making quite a bit of noise in the process. Olympus claims the lens is dustproof but we can't help but think that really fine dust might in fact be able to enter the body with the air sucked in while zooming. Focusing, on the other hand, is fully internal, and the front lens element does not rotate on focus, making it easier to use certain filters (e.g. polarisers). The lens has a 67mm filter thread.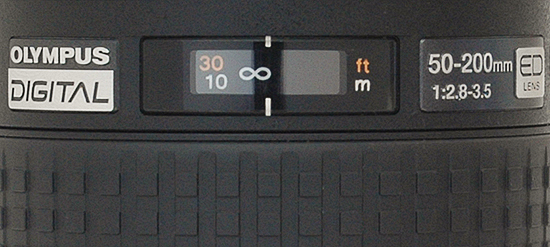 The distance scale
The Olympus 50-200mm SWD offers a moderate feature set: there is a distance scale sheltered behind a window, a quiet Supersonic Wave Drive auto-focus motor and a mechanically coupled focus ring (which is something of a rarity on a Four Thirds lens), but there is no focus limiter or image stabiliser on board. The second omission is not much of a problem if you have a stabilised body - like the Olympus E-5 we used for this review - but might be a deal breaker for those with a camera offering no sensor-shift anti shake feature.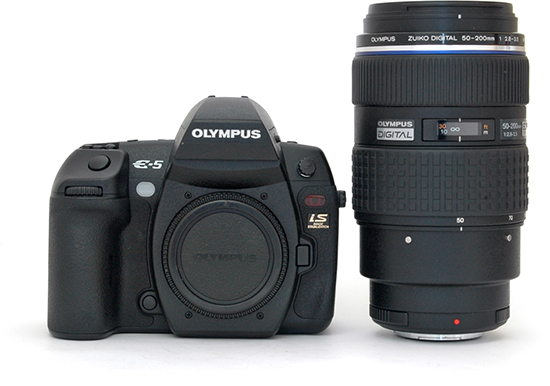 The lack of image stabilisation is no problem as long as you use it on a camera with in-body IS
Unsurprisingly for a lens that costs and weighs this much, the Zuiko Digital 50-200mm f/2.8-3.5 SWD comes with a solid metal mount. Needless to say this is of the Four Thirds variety - if you wanted to use this lens on a Micro Four Thirds body, you would need an adapter such as Olympus' own MMF-2.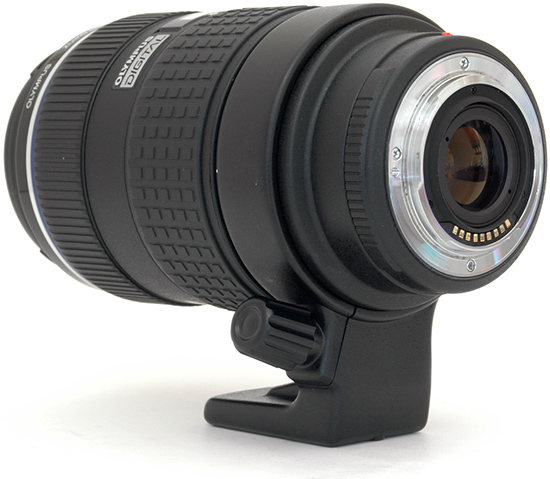 Rear of the lens, isometric view
Focal Range
At the 50mm end of the zoom range, the diagonal angle of view is 24 degrees, equivalent to that of a 100mm lens in a 35mm system.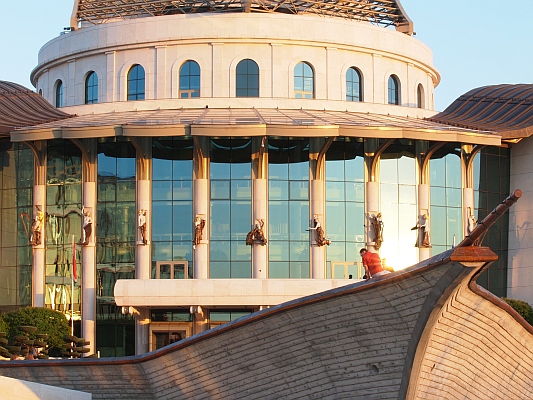 Field of view at 50mm
At the 200mm end, the angle of view narrows to 6.2 degrees, which is the same as that of a 400mm lens on a 35mm full-frame camera.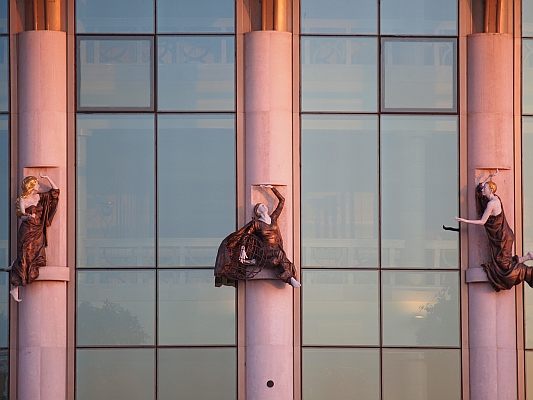 Field of view at 200mm
Focusing
With the lens attached to an Olympus E-5 camera body, focusing is extremely fast and, thanks to the Supersonic Wave Drive auto-focus motor built into the lens, essentially silent too. However, the behaviour of the auto-focus is rather peculiar - on one hand, we were able to take very accurately focused shots of difficult subjects, such as kids and pets running toward us at top speed (check out our sample shots for examples); while on the other, we found on more than one occasion that the AF system failed to lock on an easy, stationary target. Auto-focus systems are never 100% accurate or reliable, but this kind of duality - where you encounter both top-notch performance in difficult situations and sub-par results with subjects that should have been handled with ease - is something we haven't really seen with other camera-lens combinations.
Manual focusing is smooth and easy courtesy of a sufficiently wide, ridged and mechanically coupled focus ring. The design of the lens allows for full-time manual focus override. As noted above, focusing is internal, and the filter thread does not rotate on focus.
Chromatic Aberrations
Lateral chromatic aberrations, typically seen as coloured fringes along contrasty edges, are a non-issue with this lens. A truly exceptional performance!
Light Fall-off
With the lens set to its maximum aperture, the lens produces some light fall-off in the corners, particularly above 100mm (see the macro shot below, which was shot wide open at the 200mm setting). However, it's not too bad and goes away quickly on stopping down.
Macro
For a non-macro lens, the Zuiko Digital 50-200mm SWD puts up a decent close-up performance. The close-up point is at 1.2m from the sensor plane, which gives you plenty of working distance. The example below shows how close you can get to the subject, in this case, a Compact Flash card.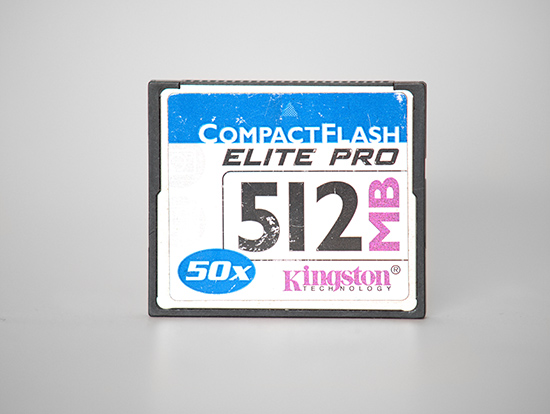 Close-up performance
Bokeh Examples
Bokeh is a word used for the out-of-focus areas of a photograph, and is usually described in qualitative terms, such as smooth / creamy / harsh etc. In the Zuiko Digital ED 50-200mm f/2.8-3.5, Olympus employed an iris diaphragm with nine rounded aperture blades for a pleasing rendition of the out-of-focus areas. We have found that they have largely succeeded, although in some cases, bokeh can be a bit "nervous"-looking (see examples and sample shots).
---