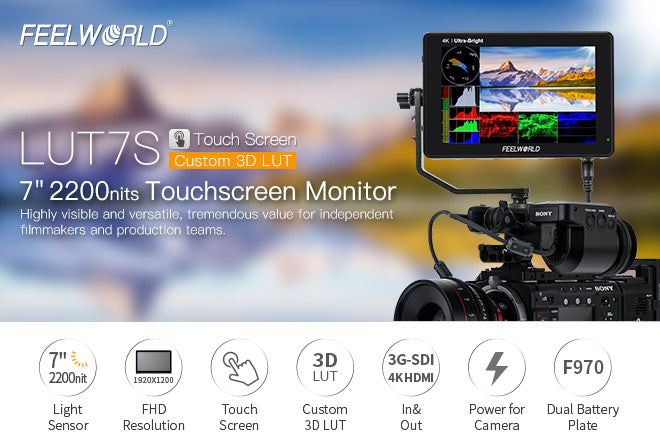 True Color · Professional Color Calibration
Use Rec.709 color standard
FEELWORLD uses the professional Rec.709 HD color standard, and uses the color calibration technology, with the professional instrument calibration at the factory, it can achieve monitor calibration efficiently and get accurate color reproduction easily, do not distort the color, show the real image when you shooting video.

More Resolution, Less Reflection
The FEELWORLD LUT7S monitor displaying your content at 323 pixels per inch (PPI), enables clear and precise field monitoring. The panel is made of optically bonded glass with an anti-reflective coating. But what really sets it apart is its light-emitting diode (LED) backlighting, which displays a 1200:1 contrast ratio and sRGB / Rec.709 Color Gamut. The wide 160º viewing angle makes it easy for multiple members of the crew to watch it at the same time.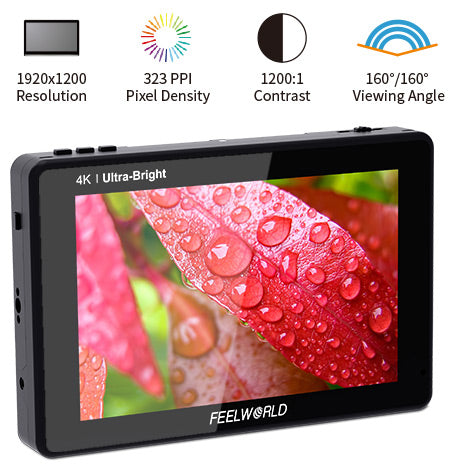 Large Monitor with Easy Touch Controls
The innovative touchscreen LCD user interface provides incredible control. You can uses simple tap and swipe gestures for the important monitoring functions. Scopes can be enabled via the touch screen as well as focus and exposure assist. Plus you can load 3D LUTs!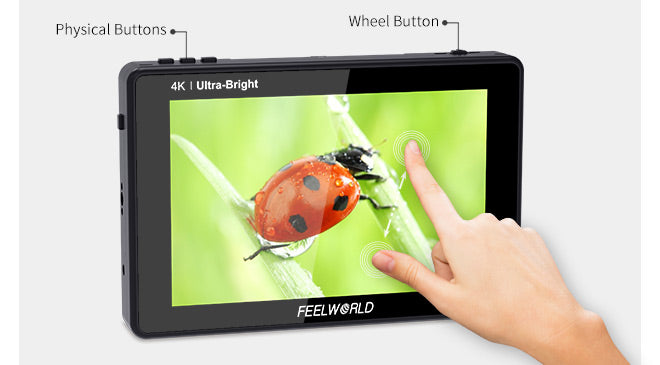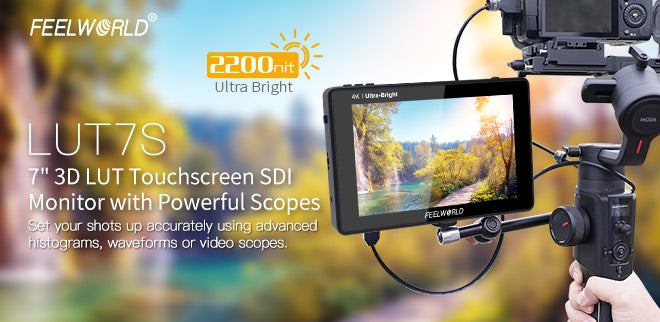 Connect to Wireless Transmitter and Director Monitor
Transmission to film crew director monitoring at the same time. Without the cable more flexible to transition between scenes effortlessly for outdoor shooting. Display live picture on multiple displays simultaneously.

Attach to Cameras, Equipment Carts or Hang It Anywhere

There are 3 standard sized mounting points. Using the bottom 1⁄4 inch hole, you can securely attach it to the top of your camera. The 1⁄4-inch holes on the left and right sides can be mounted on other equipment with magic arm, bracket, etc., for the entire crew to monitor the screen.

Package Include
STANDARD ACCESSORIES



1× Mini/ Micro HDMI to HDMI Cable
1× Tilt Arm
1× Manual
---